TimberTech Decking
Choose The Decking That Suits You Best From 3 Amazing Collections.
---
TimberTech Azek boards are a capped polymer deck board designed to resist moisture, stay cooler and have better traction than competitors' brands. Meaning, the boards can stay up to 30 degrees cooler, and they resist slipping 40% better than other leading brands. Lastly this line also comes with a 50-year Fade & Stain/limited lifetime product warranty.
Vintage Collection
Wire-brushed straight grain pattern with a low gloss finish.
Most natural-looking color options.
Colors: Weathered Teak, Coastline, Mahogany, English Walnut, Dark Hickory.
Vintage Color Options: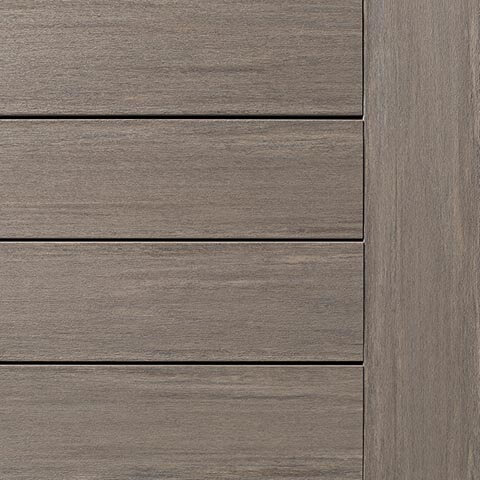 ---
Landmark Collection
Cathedral style wood grain pattern with a crosscut finish.
The highlights and lowlights in each board's color vary, giving each deck unique.
Colors: French White Oak, Castle Gate, American Walnut.
Landmark Color Options:
---
Harvest Collection
Traditional cathedral wood pattern, monochromatic solid colors for a painted-wood look.
Gives a freshly painted wood look.
Colors: Slate Gray, Brownstone, Kona
Harvest Color Options:
---
TimberTech's Pro line is a premium quality 4-sided capped composite deck board that is highly resistant to damage and rot. This line comes with a 30-year fade & stain/limited lifetime warranty.
Legacy Collection
Naturally varied wood grain patterns with a low-gloss wire brushed finished.
The colors are multi-blend with no two boards looking alike.
Hand-scraped texture provides an Old-World charm.
Colors: Whitewash Cedar, Tigerwood, Ashwood, Pecan, Mocha, Espresso.
Legacy Color Options:
---
Reserve Collection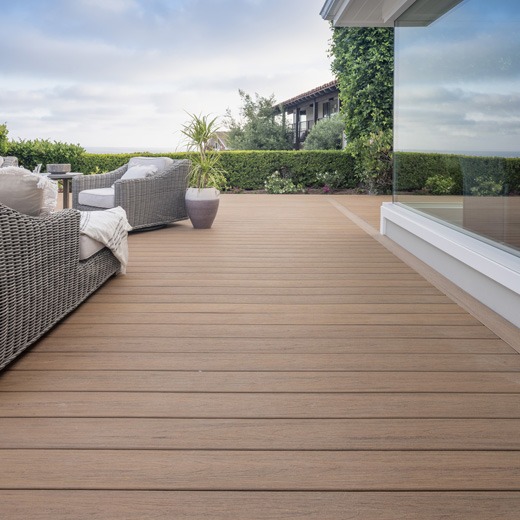 Cathedral woodgrain with wire brush finish, the blending color gives a complex rustic wood look.
Reserve Collection look pulls inspiration from reclaimed wood.
Colors: Antique Leather, Driftwood, Dark Roast.
Reserve Color Options:
---
Terrain Collection (Scalloped Back)
Cathedral wood grain pattern with minimally blended monochromatic colors.
The complex rugged wood grain pattern design helps camouflage wear and tear that comes from everyday life.
Colors: Silver Maple, Brown Oak.
Terrain Color Options:
---
Strong capped composite decking delivering advanced surface protection. Offering a 25-year limited warranty and 25-Year Fade and Stain Warranty at an enticing price.
Prime+ Collection (Scalloped Back)
Straight wood grain pattern creates a more authentic wood visual.
Beautiful vivid colors give this deck an eye-catching vibrant look.
Colors: Coconut Husk, Sea Salt Gray, Dark Cocoa.
Prime+ Color Options:
---

Learn more about TimberTech Decking